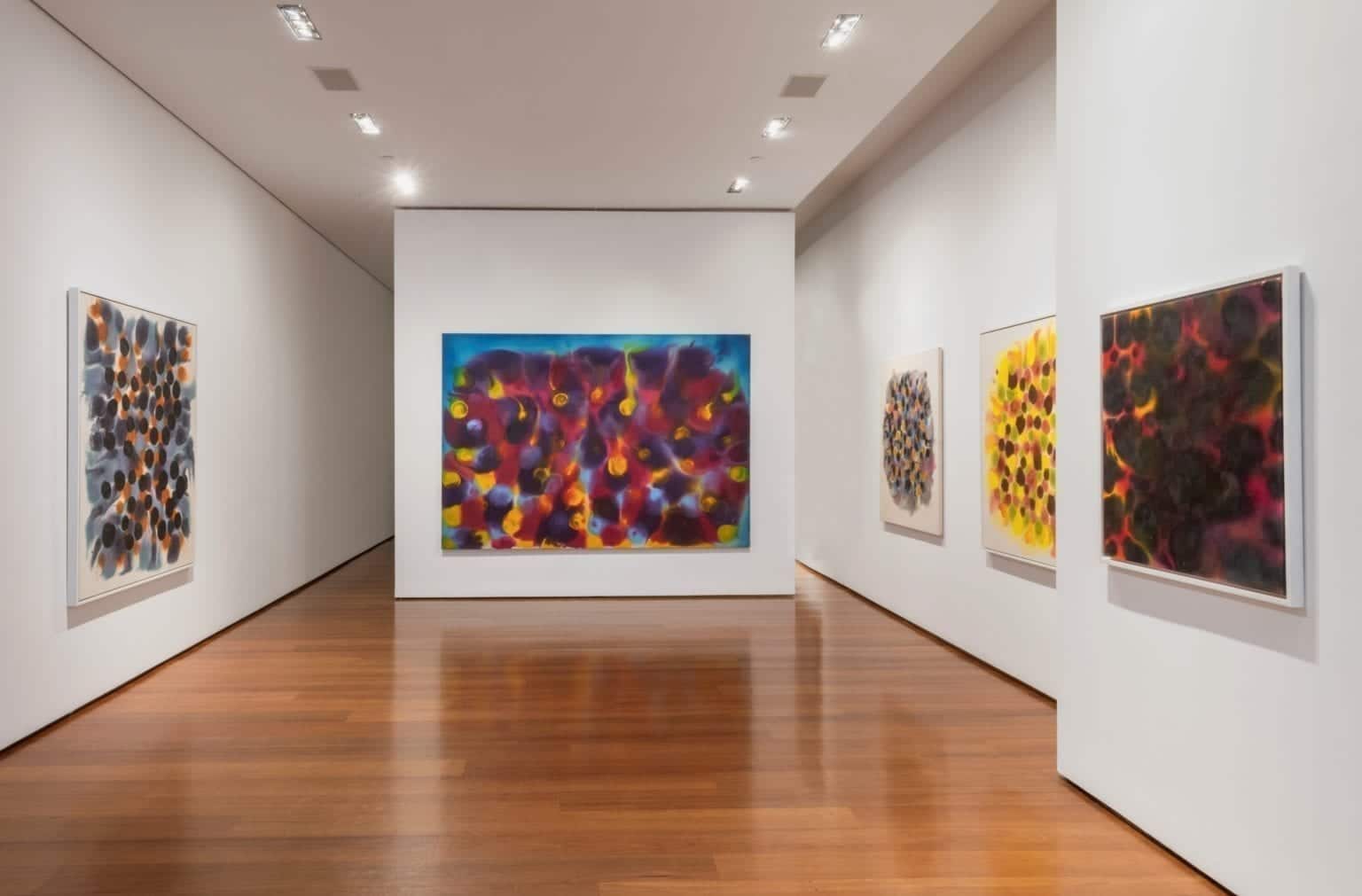 Kenneth V. Young: 1968 – 1972 opens today. On View February 20, 2020 – April 2, 2020
Edward Tyler Nahem (ETN) is pleased to present a solo exhibition of the late American painter Kenneth Victor Young (1933-2017), opening today and on view through April 2, 2020.
Kenneth V. Young: 1968 – 1972 is a series of nine of the artist's compelling colorful abstractions rendered in bright washes of acrylic, spanning from 1968-1974. His vibrant "orbs" – a motif he returned to throughout his career – are amassed, or diluted, by the varying combinations of acrylic paint, primer, and water stained on unprimed canvases. The artist's choice of material, scale, and technique offers an immersive experience into his imagined, abstract landscapes.
Works such as Triptych Miles Davis (1972) and Spring Joy (1970) subtly reference an important source of influence for the artist: music. In his paintings, Young's orbs of color vary in opaqueness, shape, and quantity to devise movement and depth. This variation and repetition mimic the construction of jazz solos. One of only two known triptychs by the artist, Triptych Miles Davis also nods to the artist's wide-ranging utilization of artistic genres; here he draws from the reverential practice of the Italian Renaissance yet replaces the saintly figure with the deification of a musical genius.
A trained scientist at a chemical company, Young began his art career after completing an undergraduate degree in physics and enrolling in a graduate program in chemical engineering at the University of Louisville. It was here that Young joined the local black artists' group, Gallery Enterprise, and met Bob Thompson, Sam Gilliam, and Robert Douglas. This experience ultimately convinced him to switch majors, eventually earning the prestigious Allen R. Hite Scholarship, a merit-based scholarship for fine art majors.
Exhibitions of Young's pioneering work have recently been staged at the American University Museum, Katzen Arts Center in 2019, and The Language of Abstraction at the University of Maryland University College in 2018, which were instrumental in affirming his legacy as a leading color field painter of his time.
This exhibition is accompanied by a publication, including text by Sarah Battle of the National Gallery of Art.