Riga International Biennial of Contemporary Art (RIBOCA) announces major new commissions for its second edition
RIBOCA2: and suddenly it all blossoms
Curated by Rebecca Lamarche-Vadel
Press and professional preview: Thursday 14 May – Friday 15 May 2020
RIBOCA2 open to public: Saturday 16 May – Sunday 11 October 2020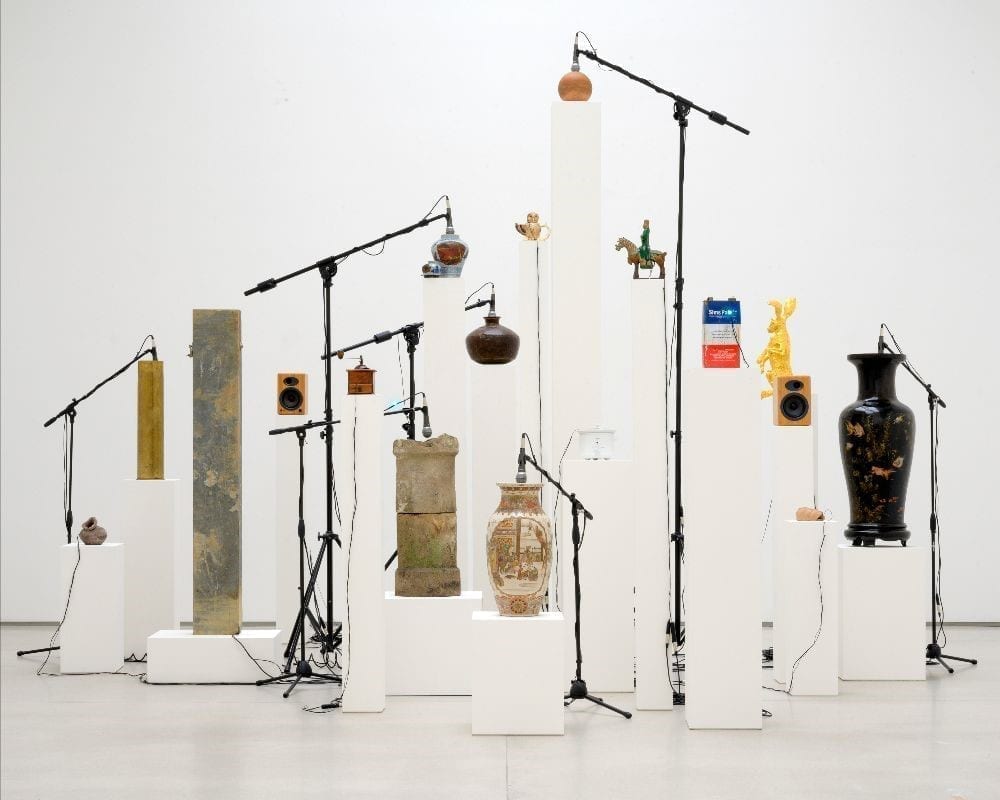 Riga International Biennial of Contemporary Art (RIBOCA) is delighted to announce a selection of major commissions for its second edition. In total, RIBOCA2 includes 85% new works, produced in close collaboration with local communities.
The Biennial brings together artists, creators and thinkers to engender a symbiosis of local and global perspectives. True to its mission of promoting local and neighbouring art scenes, almost a third of the 46 participating artists and collectives are from the Baltic countries (Estonia, Latvia and Lithuania), while almost 60% are from the wider Baltic region (extending to Denmark, Finland, Germany, Poland, and Russia) in dialogue with individuals from Argentina, Austria, Belgium, Croatia, France, Greece, Italy, Mexico, Norway, Switzerland, the UK and the USA.
Selected commissions: 
Oliver Beer (UK, b. 1985) brings together recent installations 'Grandmother', 'Mother', and 'Sister' from the series 'Household Gods', made from his relatives' personal belongings, with a new set of objects owned by a Latvian woman. The vessels are connected to microphones that amplify the frequencies resonating within them, capturing their inner sound and subverting our perceptions of emptiness, silence and the invisible. "I like the idea that a visitor might gain a new relationship to objects", Beer reflects, "to hear things that they've only been able to see and touch."
Hicham Berrada (France and Morocco, b. 1986) shapes new universes out of the materials of our world, with a practice that could be described as an art of chemistry. Titled Présage (Omen), his project for RIBOCA2 is composed of several aquariums displaying evolving microcosms generated by the interaction of particles from human industry and materials from Riga and its surroundings. His video SiO2  reimagines the setting of the exhibition venue in a million years. These works accelerate time, offering a glimpse of what could happen long after the world as we know it has turned to ruins.
Dora Budor (Croatia and USA, b. 1984) takes cinema as the theme, instrument and mode of production in her work. Budor uses the site of the Biennial as an environment for hosting a performance by local supporting actors. Within the crowd, unities will form, creating a new collective identity; but also accounting for the costs of revealing and withholding – information, motives, feelings – in a former surveillance state.
Valdis Celms (Latvia, b. 1943) is a pioneer of the 1970s Latvian kinetic art movement. Of the numerous projects that Celms has designed, many remain at the early stages of sketches or models. For RIBOCA2, the artist realises two of his long-planned, large-scale projects, one of which is Pozitron, a 3.5m diameter turning metal sculpture, designed to boost workers' morale at a Ukrainian electronics factory. It has lighting effects following weekly calendars, attempting to ease and transform workers' conditions.
Marguerite Humeau (France, b. 1986) develops a new body of work inspired by Latvian folklore. Interrogating the hypothesis that climate change could be responsible for the rise of spirituality amongst animals, she presents the body and spirit of a dying whale in an installation and sound piece. Humeau's works are metaphors which prompt us to question our position as humans who have disregarded visible alerts sent by our ecosystem.
Lina Lapelyt? (Lithuania, b. 1984) reflects on power hierarchies, gender, endurance, slowness, and listening in her multidisciplinary practice. For RIBOCA2, Lapelyt? works in collaboration with architect Mantas Petraitis (Lithuania, b. 1977) to recreate log-driving practices from Riga's timber trade industry in the Middle Ages – when workers balanced on logs being transported down the Daugava river – reflecting on the relationship between men, natural resources and the force of the river in a performative representation of vitality and desire.
Berenice Olmedo (Mexico, b. 1987) celebrates the originalities and singularities of unconventional human bodies, embracing the idea that we draw our strength from multiplicity rather than biological and aesthetic standards. She challenges normative social structures which lead to the marginalisation of disabled people within society. For RIBOCA2, Olmedo presents four motorised children's orthoses, animated electronically to perform loose choreography. Creating beings that are both organic and mechanical, the artist explores the more-than-human aspects of our societies.
Bridget Polk (USA, b. 1960) balances cinder blocks, bricks and natural rocks in ephemeral sculptures poised together in an impossibly fragile balance. These sculptures are the result of a collaboration between human will, mineral properties and physical laws. For the Biennial, Polk will perform daily in the exhibition space, balancing stones and rubble found in and around Riga, juggling the layered histories of the city and the country. Her work will leave no trace, and only exist during the five months of the Biennial.
Tomás Saraceno (Argentina and Italy, b. 1973) presents his Aerocene project, a flying sculpture from Berlin to Riga carried only by the air, the sun and the power of the wind. The artist states: "For every biennial, exhibition, art fair, I join, I have to ship an artwork, which adds months' worth of human-generated carbon emissions to the atmosphere, impacting the health of the planet and all beings it provides for, you and I included. What if a sculpture could carry itself to Riga?".
Saraceno will also present a new partnership with the Riga J?rmala Music Festival, a 'Jamming Session' between leading classical music stars and a spider, transforming the concert into a vibrating laboratory for experimentation. Making spiders' webs into musical instruments via his sonification devices, amplifying the vibrations of the spiders and their webs, Saraceno stages a musical collaboration between the spiders and various invited musicians.
Augustas Serapinas (Lithuania, b. 1990) initially planned to make copies of a hundred snowmen on Riga's streets during snow season as an homage to the artistic collaboration between individual imagination and the earth's resources. However, exceptionally warm weather this year prevented snowfall and has made the original project impossible to pursue. Serapinas therefore decided to work with locals to find ways of building snowmen without snow, engaging us to imagine what kind of rituals will replace this tradition as snow becomes increasingly scarce in the region. His work focuses on everyday creativity, transforming the world through simple, commonplace gestures.
Daina Taimi?a (Latvia, b. 1954), a professor of mathematics, teaching hyperbolic geometry to students using tactile, crocheted models of hyperbolic planes (two-dimensional surfaces with constant negative curvature). Her practice challenges the polarisation of scientific knowledge and popular handicraft via the traditionally feminine technique of crochet. For the Biennial, Taimi?a develops these works in collaboration with a hundred volunteers across the country. Made of various materials including plastic bags, old sheets, and VHS tapes, her project reminds us that everything takes place in a continuous process of transformation – whether this applies to our minds, our relationships, or is observed in the world around us.
Public Programmes:
For its entire duration, the exhibition will be enriched by talks, workshops, events and performances imagined in collaboration with Sofia Lemos, RIBOCA2 associate curator of public programmes, with: poet CAConrad, philosopher Emanuele Coccia, historian Lorraine Daston, philosopher Vinciane Despret, researcher Monica Gagliano, philosopher Paul B. Preciado, anthropologist Tobias Rees, and sociologist Boaventura de Sousa Santos, amongst others. The programme will be organised around specific words that have informed the preparation and research of the exhibition. On a weekly basis, guests will be invited to reflect on words such as beginnings, dreams, metamorphosis, or feminisms, amongst others.
RIBOCA2 is collaborating with restaurants and chefs of Riga, offering culinary discovery and wonder across the city. Each chef has been invited to imagine the flavor of re-enchantment through vegetarian food, whilst following their signature cooking principles and style.
The full RIBOCA2 participants list can be found in notes to editors below.