The Bloomsbury Group – the early 20th century artists, writers and freethinkers who in Dorothy Parker's memorable phrase 'lived in squares, painted in circles, and loved in triangles' – scandalised society at the time and has fascinated generations ever since. Two of its most prominent members meet in a striking portrait of the novelist EM Forster by Roger Fry to be offered at Bonhams Modern British and Irish Art sale on 1 July.  It is estimated at £30,000-50,000.
The art historian Roger Fry (1866-1934) was introduced to the Bloomsbury Group by the painters Vanessa and Clive Bell in 1910, and soon became one of its major intellectual forces. His advocacy of the latest trends in French art – he is credited with coining the term post-impressionism – made a decisive and lasting contribution to shaping taste within the English-speaking world. He was also a talented artist, as his portrait of Forster, painted around 1911-12 shows. The work was part of Fry's one man show in 1912 where Forster bought it for £17 and 10 shillings.  He gave it to his close friend Florence Barger and the portrait was not seen in public again for 50 years.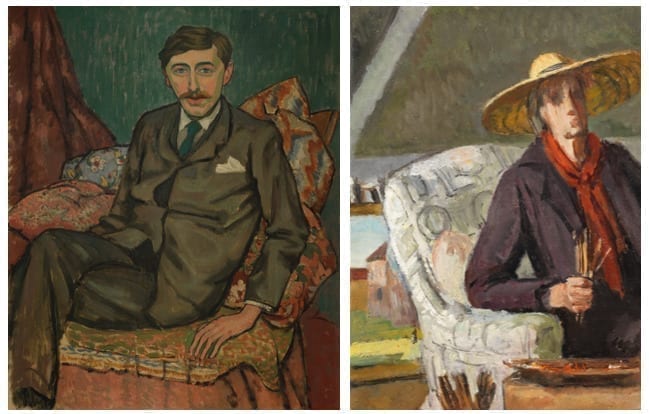 E M Forster's fame rests on the four novels rooted in Edwardian England he published in the 1910s, A Passage to India in 1924, and the posthumously published gay love story Maurice. Like so many of the male members of Bloomsbury, including Fry, E M Forster (1879-1970) was educated at Kings College Cambridge and had been a member of The Apostles, a semi-secret society that met to discuss philosophical and moral issues.  Although the Bloomsbury Group had no overt political agenda, its members rejected the conventions of the Victorian world in which they had been born, in favour of the primacy of personal relationships and individual experiences. These themes are explored both in Forster's fiction, and in the series of influential essays he published later in his life.
Fry and Forster were neighbours in Surrey and became close friends. Writing in the summer edition of Bonhams Magazine, the biographer Matthew Sturgis said, "The portrait – painted at a time when Fry, steeped in the Parisian experiments of Post-Impressionists, Fauves and Cubists, was striving to introduce something of their daring simplification and anti-naturalism into his own practice – was an upshot of that happy friendship."
The sale also offers a rare self-portrait by Vanessa Bell (1879-1961). With her sister Virginia Woolf, Vanessa was a core Bloomsbury figure and acknowledged as among its finest artists. In 1911, she began an affair with Roger Fry which ended in 1913 when she fell in love with fellow artist, the predominantly homosexual, Duncan Grant. She and her husband never divorced and indeed their lives remained closely entwined, not least because Clive agreed to raise as his own, the daughter Vanessa had with Grant. The self-portrait is estimated at £20,000-30,000.
Bonhams Director of Modern British and Irish Art Chris Dawson said; "The popular image of the Bloomsbury Group's complicated love lives sometimes overshadows their achievements. As the two works in the Bonhams sale show, however, they were at the heart of the key artistic and literary movements of their day and made a lasting contribution to the nation's cultural life."