(Los Angeles, CA) – Today the A+D Architecture and Design Museum ("A+D Museum") has announced an ambitious institutional organizational realignment. The A+D Muse-um plans to advance as an expansive network-shaped platform that moves beyond the limitations of a central physical space into a wide-reaching net of both digital and physical exhibitions and programs for and by multiple communities.
The institution's mission and core values of experimentation, agility, and inclusivity will be amplified through all facets of this new presence. Critical to this is the reallo-cation of resources in support of the programmatic work of the A+D's Inclusivity and Community Committee, the initiation of a grant program for emerging artists, and the advancement of its already experimental exhibitions. A new digital platform will be released on July 1st 2020 as a central means of communication for the expanded Museum.
The Museum's official statement regarding the restructure is as follows:
"A+D Museum's mission to be a platform and space of engagement for our architects, designers, creatives, and audience must shift with the needs of our community. As a team we have heard the response to societal shifts and as a family we recognize the opportunity to transform ourselves in response to this place in time.

We are thrilled to evolve, to become a more dynamic expression of our mission and our supporter's needs. By transitioning to a hybridized platform structure, we release ourselves from a solitary physical presence and embrace a more expansive presence, a long discussed goal of our Beyond Walls Strategic Planning Committee. We will continue to provide exploratory programming through digital platforms and short-term community-driven physical exhibitions and events as a means of reaching a wider, increasingly inclusive audience.

As an organization we are adopting a network format which allows us to go beyond and bring our appreciation for local makers to a global scale. Our goal is to become a more expansive Museum which adapts to the hybridized structure society is demand-ing today. This shift will allow the museum to focus all its resources more purely on its values beyond the limitations of a building."

This decision was made unanimously under the leadership of the Board of Directors, Beyond Walls Strategic Planning Committee, and Executive Director Anthony Morey. Mr. Morey commented, "The A+D Museum has always found its drive through experi-mentation and pushing boundaries while growing its audience. We see this as a perfect opportunity to take us to the next level."

Nancy Levens, president of the board, enthused, "If there was ever a time for an insti-tution devoted to architecture, design and the path forward to our best world, this is it. We have been talking about a 'Beyond Walls' approach for the past year. It is the only way to be as inclusive as we have envisioned for ourselves."

Duan Tran, co-chair of the Beyond Walls Strategic Planning Committee and a critical leader in the realization of the Museum's shift stated: "Evolution is a natural process. One that the A+D Museum continues to be uniquely positioned for as a leading edge progressive design institution that embraces diversity, inclusion, and dialogue through unparalleled artist, designer, and community engagement."

Roger Fricke, Co-Chair of the Beyond Walls Strategic Planning Committee and a criti-cal leader in the realization of the Museum's shift stated:

"While reflecting on our reality, it so resonates that A+D should be the place where we invent and test new ways to fulfill our mission. In a way this time is a huge sign for us to do what we have always done and that is to be agents of change."
The Museum's full staff will be working in accordance with the newfound structure. This will allow them to create critical connections within the communities they are working with.
A+D Architecture + Design Museum
The A+D is a place for individuality, creativity, discovery, and continuous questioning. It is a location of serendipitous combustion resulting in endless exhibitions, events and cultural engagement bringing LA to the front line of emerging themes, topics and thoughts of the Architecture and Design community. Established in January 2001, A+D is the only museum in the country to exclusively and continuously host architecture and design exhibitions, symposia, multi-disciplinary projects, educational, and com-munity programs.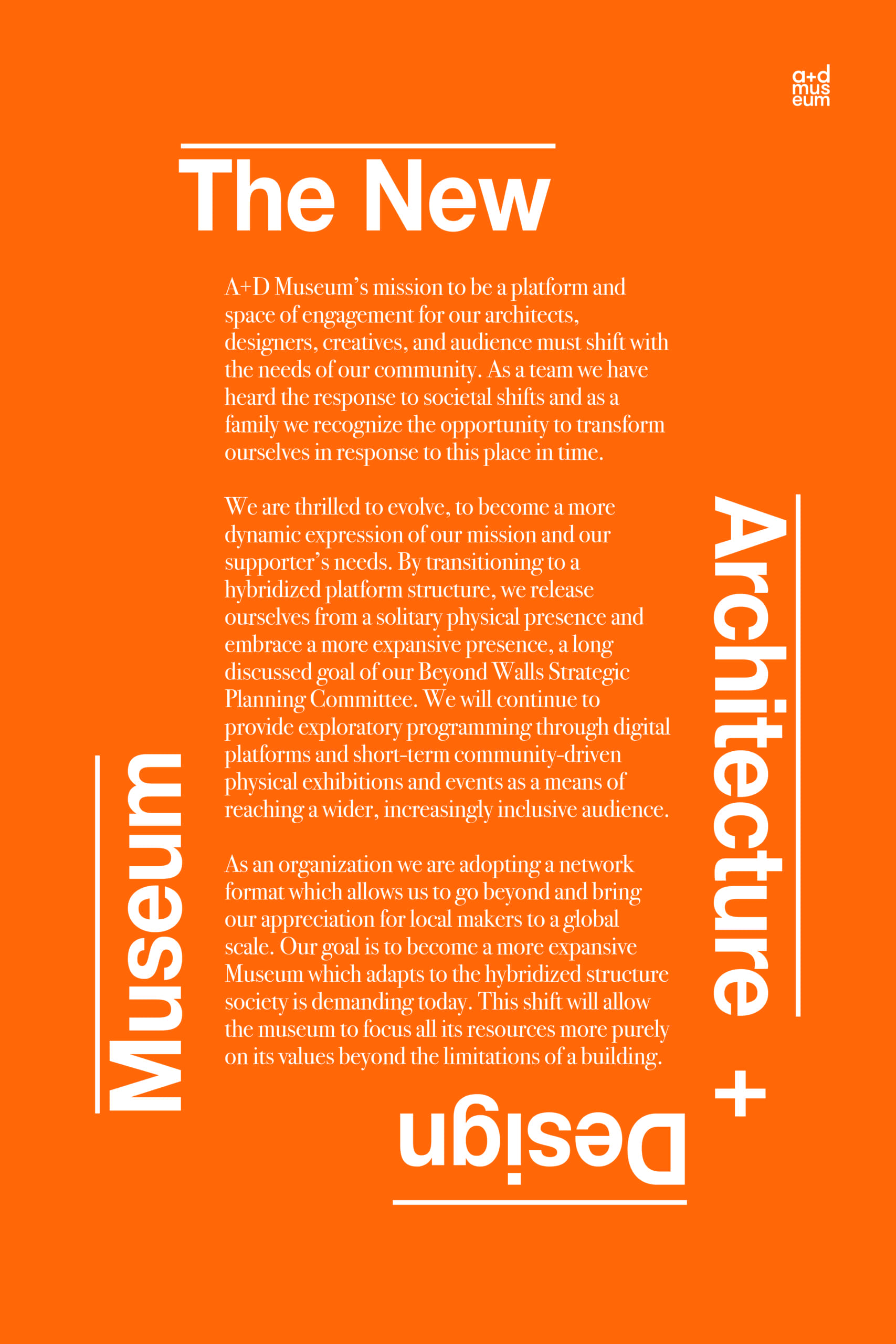 A+D Museum Platform Reshaped to Network Format
Summary
Today the A+D Architecture and Design Museum ("A+D Museum") has announced an ambitious institutional organizational realignment. The A+D Muse-um plans to advance as an expansive network-shaped platform that moves beyond the limitations of a central physical space into a wide-reaching net of both digital and physical exhibitions and programs for and by multiple communities