Night Teeth is a 2021 horror movie directed by Adam Randall. Starring Jorge Lendeborg Jr., Debby Ryan and Lucy Fry.
Plot, Synopsis
A young chauffeur drives two beautiful young women to different parties. They're not who they claim to be, and he ends up in a fight for his life. (filmaffinity)
Movie Reviews
"It's indifferently told (…) though the real problem is that 'Night Teeth' has no metaphor. None! (…) [These fashionistas are] an expression of something, but the film does next to nothing with it" Owen Gleiberman: Variety
"The cast is generally charming (…) The film fulfills its obligations with style, even if it never matches the ambitious flourish of its opening sequence." Jason Shawhan: AV Club
"Far from giving me shivers, 'Night Teeth' gave me a sudden urge to break out the sequined pants and head for the nearest velvet rope." Jeannette Catsoulis: The New York Times
Release Date
October 20, 2021
Where to Watch
On Netflix.
Movie Trailer
Cast & Crew
Night Teeth (2021)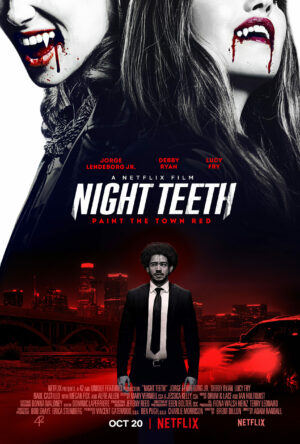 Movie title: Night Teeth
Movie description: A young chauffeur drives two beautiful young women to different parties. They're not who they claim to be, and he ends up in a fight for his life. (filmaffinity)
Date published: October 22, 2021
Country: United States
Duration: 100 mins
Author: Martin Cid
Director(s): Adam Randall
Actor(s): Jorge Lendeborg Jr., Debby Ryan, Lucy Fry, Raúl Castillo, Alexander Ludwig, Alfie Allen, Sydney Sweeney, Megan Fox, Marlene Forte
Genre: Horror