Earwig and the Witch (Aya to Majo) is a 2021 Japanesse animation movie directed by Goro Miyazaki.
Plot
Not every orphan would love living at St. Morwald's Home for Children, but Earwig does. She gets whatever she wants, whenever she wants it, and it's been that way since she was dropped on the orphanage doorstep as a baby. But all that changes the day Bella Yaga and the Mandrake come to St. Morwald's, disguised as foster parents. Earwig is whisked off to their mysterious house full of invisible rooms, potions, and spell books, with magic around every corner. Most children would run in terror from a house like that . . . but not Earwig. Using her own cleverness—with a lot of help from a talking cat—she decides to show the witch who's boss. (Filmaffinity)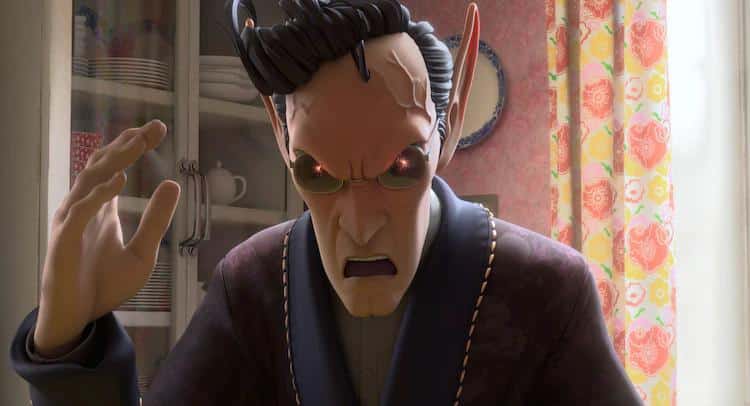 Movie Reviews
"An interesting experiment (…) It will entertain kids and adults alike with humor and magic before it fades away later that day." Jared Mobarak: The Film Stage
"[It] has a point of view, and the benefit of its creator's highly specific and recognizable voice (…) Earwig, by contrast, often feels generic." Tasha Robinson: Polygon
"Though the movie's digital style is technically more modern than Ghibli's previous hand-rendered features, 'Earwig' looks far more primitive (…) But it's the storytelling that feels most anemic." Peter Debruge: Variety
Release Date
November 18, 2021.
Where to Watch
On Netflix.
Movie Trailer
Cast & Crew
Earwig and the Witch (2021)
Movie title: Aya to Majo
Movie description: Not every orphan would love living at St. Morwald's Home for Children, but Earwig does. She gets whatever she wants, whenever she wants it, and it's been that way since she was dropped on the orphanage doorstep as a baby. But all that changes the day Bella Yaga and the Mandrake come to St. Morwald's, disguised as foster parents. Earwig is whisked off to their mysterious house full of invisible rooms, potions, and spell books, with magic around every corner. Most children would run in terror from a house like that . . . but not Earwig. Using her own cleverness—with a lot of help from a talking cat—she decides to show the witch who's boss. (Filmaffinity)
Date published: November 18, 2021
Country: Japan
Duration: 82 mins
Author: Martin Cid
Director(s): Goro Miyazaki
Actor(s): Animation
Genre: Kids